Consulting
Consulting
Introduce the services of forApp.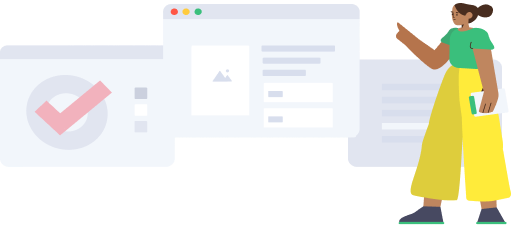 Service Process
서비스 절차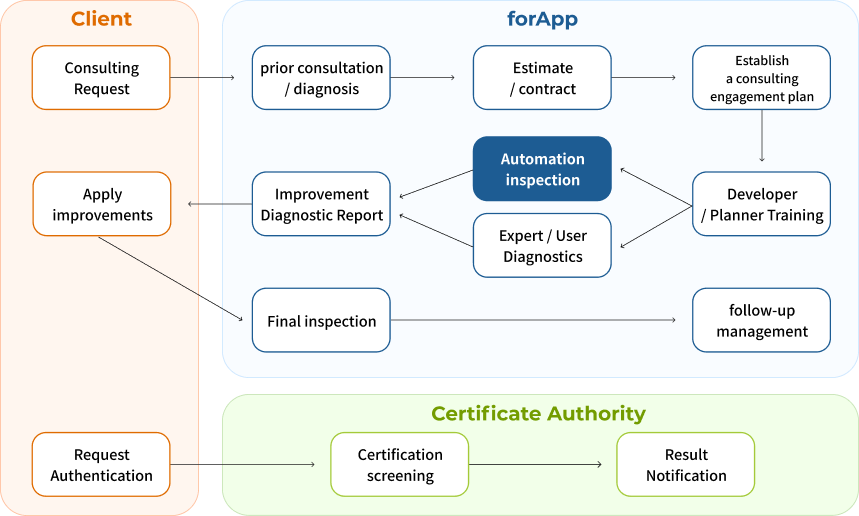 When a customer requests consulting, the forApp accessibility team consults and diagnoses in advance, then prepares an estimate and enters into a contract with the customer. Next, the forApp accessibility team establishes a consulting implementation plan and conducts accessibility training to developers and planners of the client company. After the training, automation checks, expert checks, and user diagnostics are conducted to produce improvement diagnostic reports. The client company reflects the improvement of accessibility based on the report, and the forApp accessibility team will conduct a final inspection. After that, the forApp accessibility team manages afterwards. Customer can request accessibility certification for services with improved accessibility and will be notified of the results after certification review by the accessibility certification authority.
Auto Inspection Report
자동 점검 보고서
The automatic inspection report
contains
alternate text
presence
of application content checked
by the automated inspection
solution. Alternate Text is the
main accessibility check item.
Quickly determine whether the
alternative text is available or
not is of great help to the task of
authenticating accessibility.
You can see that an alternate text
error has occurred in Focus 11, 12.
Automated Inspection Report
Mobile Accessibility Analysis Report that automatically checks
the accessibility vulnerabilities
of mobile applications through
the automated inspection solution for App.
We will produce an automated inspection report with the automated
inspection solution for App.
In a short period of time, major accessibility instruction items such as
alternative text and focus
on the application screen are checked to find
errors and produce reports that produce statistics.
It is used as data for customer accessibility certification.
To inquire

Comprehensive Report
종합 보고서
Comprehensive Report
+   Automated Inspection report
+   Technical Inspection Report
+   User Evaluation Report
To meet your mobile accessibility certification criteria,
we will check and consult you on compliance with
mobile accessibility.

Automated
Inspection Report
This is an
automatic report
that
checks key items of accessibility
guidelines with the automatic
inspection solution for applications
to understand the current status.

Technical
Inspection Report
Conduct
consulting
and report
on accessibility certification.

User Evaluation
Report
A report that assesses the availability
of
disabled users
after they have
established key application tasks.
To inquire